Online Resources Redesign



User experience-focused redesign with an emphasis on clarity, patron usability, and librarian-curated content.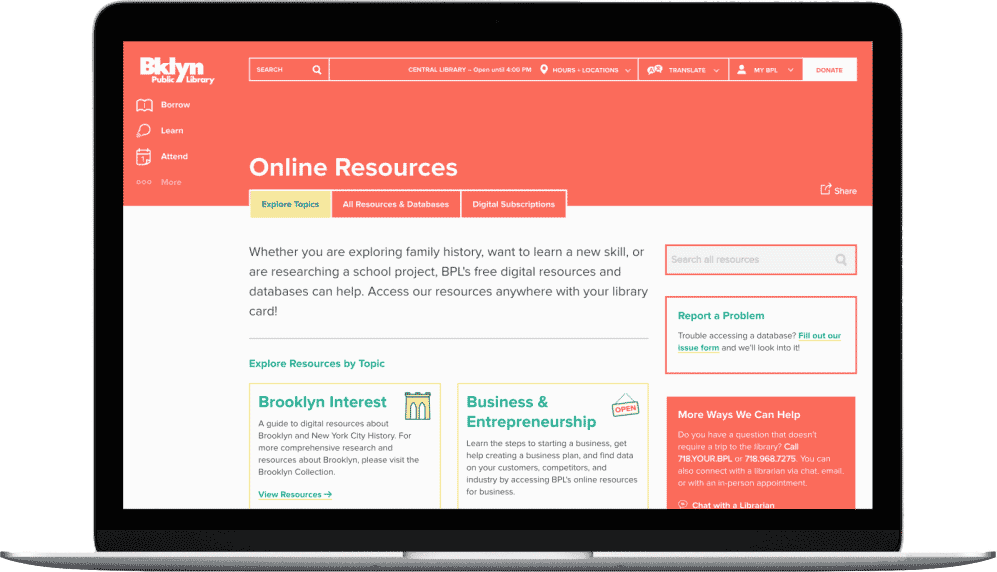 ---

The Challenge:
The "Learning Resources" section of BPL's website was presenting pain points to both patrons and staff. BPL was spending millions on a wide range of online subscriptions (from academic databases to educational tools), but user testing and analytics showed that few patrons were organically finding these tools—or knew that they were available at all.


---
Redesign Goals:
Inform patrons about what resources and tools the Library offers
Improve discoverability/findability in site menu through consideration of menu placement and name
Overall front-end design improvements for digital accessibility and to harmonize interfaces with the other patterns on the BPL website
Improve back-end CMS management system for librarians to maintain the site and explore what new tools/features could be added to ease workflow
Design Drafts
---
My Role:
Project management: Co-wrote initial redesign proposal. Met with internal stakeholders to craft scope and technical requirements. Gathered competitive market research from other library systems. Assisted user experience researcher with in-person patron interviews and testing. Managed project documentation and timelines from kickoff to rollout, including creating RACI matrices for approvals
Design: User interface and experience, proposing and designing new features, visual design
---
Implemented Designs


Explore BPL's Online Resources here ︎︎︎


---

Team: Maya Wagoner, UX researcher; Tom O'Dea, web development and engineering; Krissa Cavouras, marketing & comms content strategy; Amy Mikel, outreach librarian; Natalie Cannestra, business librarian; Angie Miraflor, customer experience.